NABARD Development Assistant Previous Year Cut Off
NABARD Development Assistant Previous Year Cut Off
A look into the previous year cutoff will help you to plan a strategy and work accordingly for NABARD Development Assistant. It will not only help you to work where you lack but also to know which topics are most important and which are least. You will also be aware of what can be the safe attempt and what should be the speed and accuracy that will be helpful to clear the final merit. So take a look into the previous years cutoff for NABARD Development Assistant.
NABARD Development Assistant (HINDI) Prelims Cut Off 2019
As being familiar with the NABARD Development Assistant exam pattern is important in the same way knowing overall cut-offs of previous year form a very essential part of your preparation strategy.
Statewise and Categorywise Cut-Off Applied On Total
REGION / OFFICE
SC
ST
OBC
EWS
UR
VI
LD
MD
HI
EXS
DIS-EXS
BIHAR
-
-
38.25
-
-
-
14.50
-
-
27.50
20.00
GUJARAT
-
-
-
-
33.00
MAHARASHTRA (HO-Mumbai)
14.25
10.75
-
-
24.50
TAMILNADU
-
-
-
-
22
TELANGANA
-
-
-
-
27.5
UTTAR PRADESH
37.50
-
-
-
-
WEST BENGAL
-
-
-
-
38.25
Categorywise Cut-Off Applied On Objective Test
CATEGORY
EL
PK
RE
(40)
(30)
(30)
SC, ST, OBC, PWBD, EXS
1.00
5.50
1.00
EWS, UR
5.50
8.50
3.50
NABARD Development Assistant (HINDI) Regional Wise & Category Wise Cut Off 2019: Select List & Wait List
REGION / OFFICE
SC
ST
OBC
EWS
UR
HI
LD
VI
ML/SL
EXS
DIS-EXS
SL
WL
SL
WL
BIHAR
SELECT LIST
-
-
115.50
-
118.00
-
WAIT LIST
-
-
97.25
-
GUIARAT
SELECT LIST
-
-
-
-
121.50
WAIT LIST
-
-
-
-
90.25
MAHARASHTRA
SELECT LIST
116.25
$
-
-
%
WAIT LIST
68.25
$
-
-
%
89.50
TAMIL NADU
SELECT LIST
-
-
100.50
WAIT LIST
-
-
$
TELANGANA
SELECT LIST
-
-
-
-
$
WAIT LIST
-
-
-
-
$
UTTAR PRADESH NBSC
SELECT LIST
101.50
-
-
-
-
WAIT LIST
81.00
-
-
-
-
WEST BENGAL
SELECT LIST
-
-
-
-
%
WAIT List
-
-
-
-
%
90.75
$ - No Candidates Qualified
% - Candidates qualified under EXS
Categorywise Cut-Off Applied On Objective Test
CATEGORY
TR
PK
GA
CK
(20)
(50)
(40)
(40)
SC, ST, OBC, PWBD, EXS
4.25
14.25
4.25
9.75
EWS, UR
6.75
18.50
6.75
13.00
NABARD Development Assistant Prelims Cut Off 2019
Statewise and Categorywise Cut-Off Applied On Total
REGION / OFFICE
SC
ST
OBC
EWS
UR
VI
LD
MD
HI
EXS
DIS-EXS
ANDHRA PRADESH
-
-
72.75
-
82.00
73.25
68.25
20.00
40.75
61.25
29.75
AURNACHAL PRADESH
-
-
-
-
63.50
BIHAR
-
-
-
-
80.00
CHATTISGARH
61.25
56.25
-
-
75.00
GUJARAT
-
-
61.00
-
76.50
HARYANA
-
-
-
-
79.25
HIMACHAL PRADESH
62.50
-
-
-
77.50
JAMMU & KASHMIR
-
35.75
-
-
75.75
JHARKHAND
62.00
63.75
-
-
79.25
KARNATAKA (BIRD Mangaluru)
-
-
66.25
-
76.25
KERALA
-
-
-
-
83.00
MADHYA PRADESH
67.50
58.75
-
-
79.00
MAHARASHTRA (HO-Mumbai)
73.25
62.75
74.75
72.00
77.50
MANIPUR
-
-
-
-
66.75
MEGHALAYA
-
-
-
-
72.75
NEW DELHI
-
-
-
-
83.25
ODISHA
66.50
-
72.75
-
80.25
PUNJAB
71.00
-
-
-
83.00
RAJASTHAN
-
-
74.50
-
81.25
SIKKIM
-
-
-
-
47.00
TAMILNADU
70.00
-
-
-
79.25
TELANGANA
-
-
73.50
-
78.50
UTTAR PRADESH
73.25
-
-
-
83.00
UTTARAKHAND
65.00
-
69.00
-
78.75
Sectional Cut off
CATEGORY
EL
NA
RE
(40)
(30)
(30)
SC, ST, OBC, PWBD, EXS
6.25
4.75
5.25
EWS, UR
11.00
8.50
9.75
NABARD Development Assistant Mains Cut Off 2019
Regionalwise and Categorywise Cut-Off Applied On Total For Select and Wait List
REGION / OFFICE
SC
ST
OBC
EWS
UR
HI
LD
VI
ML/SL
EXS
DIS-EXS
SL
WL
SL
WL
SL
WL
SL
WL
SL
WL
SL
WL
ANDHRA PRADESH - HYDERABAD
SELECT LIST
-
-
127.25
-
130.75
73.75
116.50
126.25
110.50
114.25
100.00
WAIT LiST
-
-
113.75
-
121.25
ARUNACHAL PRADESH
SELECT LIST
-
-
-
-
121.75
WAIT LiST
-
-
-
-
105.75
BIHAR
SELECT LIST
-
-
-
-
&
WAIT LiST
-
-
-
-
%
85.50
CHATTISGARH
SELECT LIST
112.50
91.50
-
-
131.50
WAIT LiST
96.75
-
-
-
119.75
GUJARAT
SELECT LIST
-
-
122.50
-
134.25
WAIT LiST
-
-
113.00
-
127.00
HARYANA
SELECT LIST
-
-
-
-
148.25
WAIT LiST
-
-
-
-
133.75
92.50
HIMANCHAL PRADESH
SELECT LIST
120.25
-
-
-
135.00
WAIT LiST
92.00
-
-
-
129.50
JAMMU & KASHMIR
SELECT LIST
-
98.00
-
-
%
WAIT LiST
-
91.00
-
-
%
JHARKHAND
SELECT LIST
110.00
104.25
-
-
136.00
WAIT LiST
88.25
84.00
-
-
123.00
KARNATAKA (BIRD MANGALURU)
SELECT LIST
-
-
140.75
-
142.75
WAIT LiST
-
-
105.75
-
121.00
KERALA
SELECT LIST
-
-
-
-
%
WAIT LiST
-
-
-
-
%
103.00
MADHYA PRADESH
SELECT LIST
124.00
104.00
-
-
137.25
WAIT LiST
103.25
101.00
-
-
135.00
MAHARASTRA (HO- MUMBAI)
SELECT LIST
126.00
101.25
129.25
126.25
135.75
WAIT LiST
118.50
97.00
127.25
122.75
128.00
80.25
116.50
MANIPUR
SELECT LIST
-
-
-
-
119.50
WAIT LiST
-
-
-
-
96.25
MEGHALAYA
SELECT LIST
-
-
-
-
133.25
WAIT LiST
-
-
-
-
112.75
NEW DELHI
SELECT LIST
-
-
-
-
%
WAIT LiST
-
-
-
-
%
101.25
ODISHA
SELECT LIST
116.25
-
123.75
-
142.50
WAIT LiST
97.25
-
113.25
-
122.50
PUNJAB
SELECT LIST
108.50
-
-
-
124.25
WAIT LiST
96.75
-
-
-
118.50
RAJASTHAN
SELECT LIST
-
-
121.50
-
129.50
WAIT LiST
-
-
111.25
-
114.25
SIKKIM
SELECT LIST
-
-
-
-
124.00
WAIT LiST
-
-
-
-
111.50
TAMILNADU
SELECT LIST
108.00
-
-
-
142.75
WAIT LiST
90.75
-
-
-
134.75
TELANGANA
SELECT LIST
-
-
116.25
-
124.50
WAIT LiST
-
-
110.25
-
119.50
UTTAR PRADESH
SELECT LIST
119.50
-
-
-
134.00
WAIT LiST
102.00
-
-
-
129.75
108.75
UTTARAKHAND
SELECT LIST
101.75
-
%
-
124.75
WAIT LiST
83.75
-
%
-
123.75
87.25
Sectional Cut off
CATEGORY
RE
QA
GA
CK
(30)
(30)
(50)
(40)
SC, ST, OBC, PWBD, EXS
14.75
11.50
8.50
16.75
EWS, UR
17.75
14.00
12.00
19.75
NABARD Development Assistant Prelims Cut Off 2016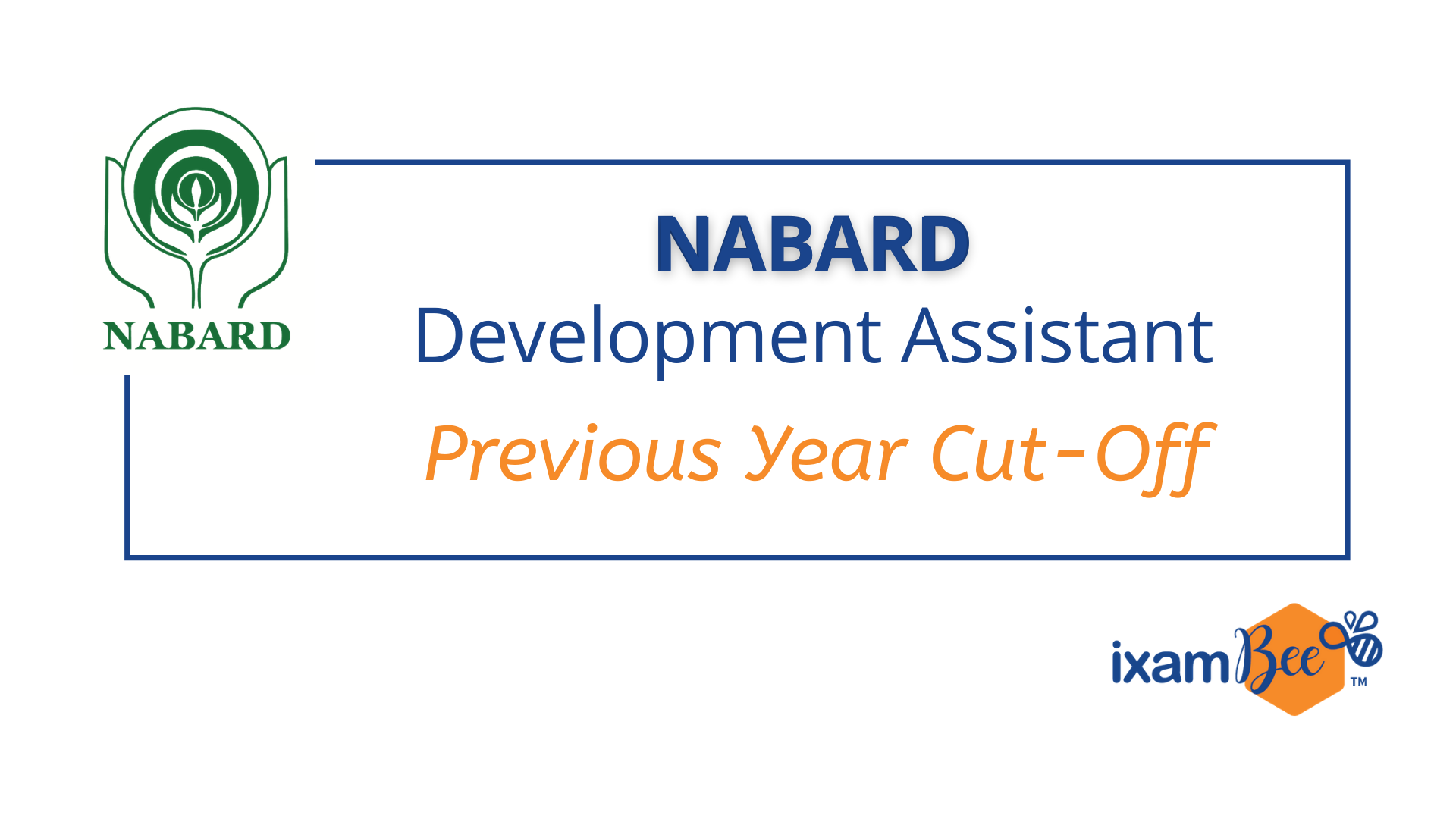 Category-Wise NABARD Development Assistant Prelims Cut Off
| State/Union Territory | SC | ST | OBC | UR | PWD | EXs |
| --- | --- | --- | --- | --- | --- | --- |
| Andaman & Nicobar | - | - | - | 132.25 | | - |
| Andhra Pradesh - Telangana | 123.00 | | 128.75 | 131.25 | | 128.50 |
| Arunachal Pradesh | | | | 127.25 | | |
| Bihar | 130.50 | | 131.00 | 138.00 | | 110.75 |
| Chhattisgarh | | 126.50 | | 138.50 | | 120.50 |
| Gujarat | | | | 129.50 | | % |
| Head Office Mumbai | 125.50 | 112.75 | 130.75 | 132.00 | 125.25 | 118.00 |
| Himanchal Pradesh | | | | 130.50 | | |
| Jammu & Kashmir | | | | 138.00 | | |
| Jharkhand | | 117.50 | | 130.50 | | 116.50 |
| Karnataka | 121.50 | | 121.25 | 126.25 | 121.00 | 97.00 |
| Madhya Pradesh | 126.00 | 115.75 | | 136.00 | | 118.50 |
| Manipur | | | | 134.75 | | |
| Meghalaya | | | | 116.50 | | |
| Mizoram | | | | 122.50 | | |
| Nagaland | | | | 133.50 | | |
| New Delhi | 118.25 | | | 136.00 | | |
| Odisha | 120.00 | 107.25 | | 133.50 | | 119.00 |
| Rajasthan | 116.00 | | 134.25 | 137.00 | | 120.00 |
| Tamil Nadu | | | 129.75 | 131.00 | | 103.50 |
| Tripura | | | | 117.50 | | |
| Uttarakhand | | | | 143.00 | | |
| Uttar Pradesh | 126.75 | | 128.75 | 144.75 | | 109.50 |
NABARD Development Assistant Mains Cut Off 2016
Category-Wise and Sectional Cut Off
| Category | Reasoning | General Awareness | Computer Awareness | Quantitative Aptitude |
| --- | --- | --- | --- | --- |
| General | 23.75 | 13.25 | 21 | 18.75 |
| SC, ST, OBC, PWD, EXS | 21.75 | 10.5 | 18.5 | 16.25 |
NABARD Development Assistant Previous Year Cut Off Related Quick Links