Salary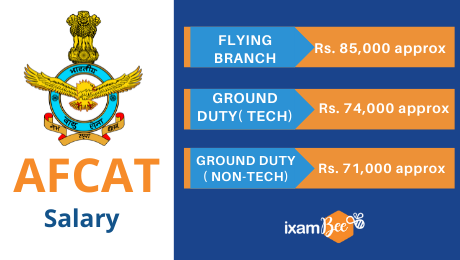 IAF provides a handsome salary to all its commissioned officers along with various other allowances. During the last one year of your training period (Even before you are Commissioned as an Air Force Officer) at any of the Air Force Training Institutions, you will get a training stipend of Rs. 56,100/.
There are basically three posts that come under AFCAT 2 2023 notification
Flying Officer.
Ground Duty (Tech.)
Ground Duty (Non-Tech).
The following Pay/Allowances would be applicable on grant of Commission to Flying Officers:-
Upon selection as the flying officer in the Indian Air Force, you will be placed in Level 10 in the Pay Matrix of 7th CPC - Rs. 56,100-1,77,500 and will also get the Military Service Pay of Rs 15,500 Per Month.
Allowances
A flying officer has various allowances provided by the IAF such as Dearness Allowance, Military service pay, Travel allowance, Grade Pay, Kit maintenance, etc.
Based on the nature of duty and place of posting, officers are eligible for the other allowances as well such as allowance based on the type of duty such as Flying, Technical and Field Area, allowance based on place of posting like Flying, technical field area, and special compensatory (Hilly Area).
After the successful completion of the AFCAT assessment, the AFCAT salary of commissioned officers based on their post area is as follows.
| Rank | Pay as per Defence Matrix | Level | MSP |
| --- | --- | --- | --- |
| Flying Officer | Rs. 56,100/- - 177500/- | 10 | Rs. 15,500/- |
Benefits and Allowances
After becoming a part of the Indian Air Force as a Flying officer or Ground Duty (Technical and Non-Technical) officer, you will enjoy many benefits and allowances. You will continue to avail of some of the following benefits even after you retire from the services.
Insurance
Under the Air Force Group Insurance Scheme (AFGIS), you will be provided with life insurance cover. After becoming an AirForce Officer, you will be insured for an amount of Rs 75 lakhs with an additional insurance cover of Rs 10 lakhs (for pilots).
Loans
As an Air Force officer and as a member of the Air Force Group Insurance Scheme, you can avail following loans:
House Building Loan
Computer Loan
Conveyance Loan
Medical
As an Indian Air Force officer, you will have free access to the best medical facilities possible for yourself, your family and your dependents. Apart from that, you can also get yourself treated from Civil Hospitals for specialized cases.
Other Benefits
Accommodation is given to an Air Force officer.
Leave Travel Concessions
Institute & Messes Membership
School facilities
Rail concessions
Secured camp life
CSD facilities
Recreational & Sports facilities
Educational Benefits
Indian Air Force encourages and sponsors all the cadets to go for higher qualifications. The IAF sponsors M. Tech. courses for officers of the Technical Branch, in institutes like IIT and BHU-IIT. It also has tie-ups with universities like IGNOU to facilitate long-distance learning for officers and airmen.
In case you want time to study, you are also allowed to take study leave of up to 24 months (expandable up to 28 months).
Post-Retirement Benefits
Pension
After retirement from the service, you will be entitled to a subsequent amount as a pension which takes care of your needs with your family.
Insurance
Even after retirement, insurance cover is provided to all who have rendered pensionable years of service on payment of minimal premium. The cover given by the Society is up to 72 years of age.
Air Force Association
To assist ex-Air Force personnel who want to find a suitable job post-retirement, the Placement Cell of Air Force Association offers employment assistance to fulfill their needs. This Cell acts as a facilitator between the employer and the employee. You can register yourself for employment through the website www.afa-india.org.
FAQs
Yes. Being an AirForce Officer you can go for higher education if you wish while being in the Indian Air Force.
Yes, you will be eligible for loan benefits, medical benefits, insurance benefits & post-retirement benefits. You can check the complete list of Air Force benefits and allowances from above.
Yes, training will commence in the first week of January 2024. The training duration for Flying and Ground Duty (Technical) is 74 weeks and that of Ground Duty (Non-Technical) is 52 weeks.
To and fro travelling fare by the shortest route will be reimbursed to the candidates appearing first time for AFCAT 2023 exam.