What is a Bank Account?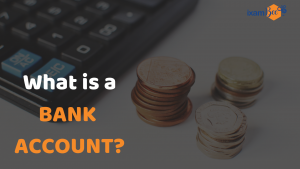 A 'bank account' can be conveniently called a suitable negotiation you happen to do with a bank to safeguard your hard-earned money in exchange for certain terms and conditions that depends on the choice you make under different types of bank accounts. The bank keeps your money and provides you with an account number that functions as a reference number for all further transactions. In simpler words, the record where all your money details are saved is given the name of an 'account'. The bank pays you interest on the money you keep safe with the bank. Therefore, it is good to keep the money with the bank for as long as you can, where you get added advantage of interest for keeping it there. You will be able to deposit or withdraw money accordingly as per your convenience, depending on the type of account you choose.
How to open a Bank Account?
The process of opening a bank account is easy and simple and can be summed up in few steps:
Research about the good banks and compare the facilities they provide including the percentage of interest they offer.

Choose a favorable bank.

Visit the nearest bank branch and choose the type of account you want.

Fill in your details in the 'account opening form' provided by the bank officer.

Attach a copy of valid ID proof with the form.

You will be required to produce an 'introducer' to open your account, wherein the introducer's signature will be required on the form itself. This is done to safeguard the bank's interest.

Submit the form along with all the required documents. The officer will verify it.

Deposit the initial amount required to activate the account. This amount may vary according to the banks.
A passbook, checkbook, and an ATM card will be issued to you according to the choices you tick in the form.
Types of Bank Accounts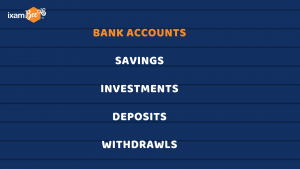 Whenever we choose to open an account in a bank, we are offered some options with respect to the kind of account we wish to open. A bank account can be of many types, where the terms, conditions, and benefits vary accordingly. Generally, banks in India offer four types of bank accounts to their customers :
 Savings Account –

This type of account is the most popular and widely preferred deposit account by bank customers. As the name suggests, it is the most favorable one when it comes to 'saving money for a longer time in exchange for a good interest rate. So, we can say that – " a savings account is an interest-bearing deposit account held at a bank that provides a modest interest rate".
The rate of interest offered to savings accounts holders usually ranges between

4% – 6 % per annum. Public Sector Banks usually provide 4% interest, whereas some private banks provide around 6 – 7 % interest on deposits.

A savings account holder can withdraw money anytime as per convenience but may be limited to a certain extent which depends on individual banks. Thus, banks usually recommend the customers to maintain a minimum balance to keep the account active and operational. However, there is no restriction on the number of deposits.

Other financial institutions that also offer savings account facilities may limit the number of withdrawals from an account each month.

This type of account is usually opened with the intention of saving the money for a longer time duration and is not suitable for the frequent monetary activity.

Although 'savings account' is used to save money, but it still makes your funds easily accessible.

A 'savings account' also requires low investment amounts initially.

Under the RBI directions, the banks are now required to open 'No Frills Account' ( An account where there is no minimum balance requirement).

A savings account also provides the facility of automatic deductions for bill-payment and minimal monthly fees.
A 'savings deposit account' has a major advantage that these accounts let customers set aside a portion of their liquid assets while earning a monetary return. If we talk about the disadvantage of a savings account, the easy access to funds may sometimes make the aim of long-term saving difficult. Also, savings account generally have the lowest return as compared to other kinds of investments.
Recurring Account –

As the name suggests, the term 'recurring' indicates to something that occurs periodically or repeatedly. Thus, a 'recurring deposit account' refers to an account that provides the facility of saving a small amount of money for a certain period of time and also earn a high interest rate. These type of accounts are popularly called RD accounts.
RD account is a kind of term deposit facility that offers a fixed interest on the amount that has been already invested (through monthly installments) at a specific frequency and the same rates as applicable for Fixed Deposits (FDs).

Any individual can open a Recurring Account and any minor who is above 10 years of age is also eligible to open a recurring account along with a valid ID proof.

Minimum amount that can be deposited in a recurring account varies according to the different banks. The amount as small as Rs 100 or even lesser than that.

The deposit matures on a specific future date, including all the deposits made till date on a monthly basis.

Premature or early withdrawals are not allowed in this account, before the term of the deposit ends. In certain cases, the bank may permit closing the account before the maturity period, charging a penalty for the same.

The interest rate offered on the recurring account usually varies in a range of

3.5% – 8.5%

. The return rates also vary according to the time period of the deposit.

These kind of accounts can be opened by a single person or jointly.

RD or Recurring Deposit Account also offers an additional facility of receiving loan against that deposit. Anyone who is willing to get a loan can avail it by using the deposit as collateral. Around 80-90% of the deposit value can be provided as a loan to the one who holds such an account.

The minimum time-period for a deposit can be 6 months and the maximum is 10 years. The time period for a recurring account can be classified into three types:
Short-term Tenure

: This kind of tenure usually ranges between 6 months to 1 year.

Medium-term Tenure

: This tenure ranges from more than 1 year to 5 years.

Long-term Tenure

: This tenure / time-period lasts from more than 5 years to 10 years.
Once the account is opened, the account holder can get his/her pass book issued, where all the details of the deposits made and the interest earned on those deposits can be entered. Also, in the case of a Recurring Account, if an instalment is delayed , the interest that is payable on the accumulated deposit will be reduced along with a nominal penalty. Therefore, we can say that a Recurring Deposit Account is useful for those who are willing to save a small amount of money on a regular basis, which proves beneficial in long-term along with earning higher rates of interest.
Fixed Deposit Account –

Popularly known as FD account, it is a financial instrument provided by banks which offers even higher rate of interests on the deposits made by an account holder, as compared to a regular savings account, until the period of maturity. This kind of account can also be called  'Term Deposits' / Bonds. As the name suggests, the period / tenure of this deposit is fixed. Savings Accounts are one of the most preferred ways by customers to save money.
When you open a Fixed Deposit Account, you basically deposit a good amount of money in the bank for a fixed chosen time period at a specific rate of interest that is agreed on by you with your bank.

The interest rates on the deposits made under this account are fixed when you make the deposit and the rate also depends on the term or duration for which you want to keep your deposit for.

A fixed deposit also offers guaranteed returns, which implies that irrespective of the fluctuations in the interest rates, you will receive the same interest as you must have agreed on at the beginning.

You can also take a loan against your FD, as and when needed.    

The interest rate in a Fixed Deposit Account varies between

4% – 7.25%

.

The time period of an FD can vary from

7, 15

or

45

days to

1.5

years and go on to

10 years

. Generally, a longer term of deposit is directly proportional to higher rates of interest.
Current Deposit Account –

A 'current account ' is  mainly meant for businessmen, companies, firms and public enterprises, as it is not suitable for those who want to invest or save for a longer time. As the name indicates, these accounts are current and can be operated anytime, as per the customer's convenience.
There is no provision of interest being paid, on the money that is deposited in such accounts. However, the respective bank may charge a particular service charge.

The deposits made under these accounts can be termed as the most 'liquid' deposits , always being in the flow and operational.        

Always being used on a continuous basis, these accounts do not have any fixed maturity.

There is no limit on the number of transactions in a day, which means there is also no limit on the number of withdrawals. It is an active account which facilitates frequent deposits and withdrawals.

A penalty may be charged if minimum balance is not maintained in a current account.
Thus, we can say that a current account is basically an account that is opened with the aim of letting the businessmen run their business smoothly, which on a larger perspective lets the money flow be smooth and always operational. Questions on this topic can be asked in NABARD Grade A Exam 2021.
Also Read:
& Many More…
Get Free Online Test Series, GK updates in form of Beepedia, BeeBooster,  as well as latest updates for Bank PO, Bank Clerk, SSC, RBI, NABARD and Other Government Jobs.
                                                             что такое займ под материнский капиталчастный займ в ростовезайм 200000