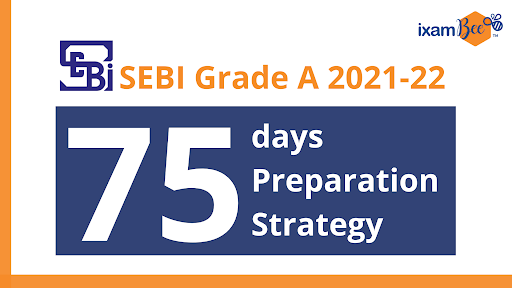 SEBI Grade A 2021-22
SEBI conducts an examination every year to recruit eligible and aspiring candidates to the post of Grade A Officer. The final result for SEBI Grade A 2020 exam was released on July 02, 2021.
The SEBI Grade A notification for 2022 was released on January 05, 2022. The application window will remain open from January 05 to January 24, 2022. Phase 1 will be held on February 20, 2022 and Phase 2 will take place on March 20, 2022.
(Note: The dates may change in the wake of the Covid scenario).
To ensure that you fare well in the SEBI Grade A exam, you need to be well-acquainted with all the exam-related information such as the exam pattern, eligibility, etc.
SEBI Grade A Exam Pattern
The SEBI Grade A exam/ selection process is conducted in three main phases:
| | |
| --- | --- |
| Level | Examination |
| Phase 1 | Online screening examination consisting of two papers of 100 marks each |
| Phase 2 | Online examination consisting of two papers of 100 marks each |
| Phase 3 | Interview |
SEBI Grade A Exam: What, When & How?
Divide your preparation into parts and work on these simultaneously. You can divide your complete SEBI Grade A syllabus into the following parts:
QRE: Ensure that you devote enough time to the three important sections of Quants, Reasoning & English Language.
Static (Theory: Paper 2)
GA + Dynamic (Paper 2)
You will have 30-32 hours per week and thus you need to make a proper plan of how you will utilise this ample time you have right now.
This also means that you have around 300-320 hours with you which is good enough to cover the entire syllabus.
Go through the syllabus and use it as a guide and follow it religiously.
You should attain mastery over what all you already know. You need to be confident in your expert points.
Revise, revise till you succeed – make it a habit to always revise whatever you read.
SEBI Grade A: Preparation Strategy for Phase 1 & Phase 2
Before you start off with the preparation, you should jot down the complete SEBI Grade A syllabus and then start preparing accordingly. Paper 2 in both phases tests your professional knowledge. A few basic points that should be kept in mind are:
Quantitative Aptitude
Revise the basic arithmetic lessons.
Develop your data interpretation skills.
Learn some important formulae and practice as many numerical problems as possible.
Practice and solve all kinds of questions ranging from easy to difficult.
Learn short tricks
Reasoning Ability
Some topics require thorough practice such as: Inequalities, Coding-decoding & Blood Relations.
Focus on the basic concepts related to all the above-mentioned topics.
Solve more and more puzzles regularly to develop your logical and analytical skills.
Learn to skip and pick.
English Language
Grammar – Practice rules of grammar and solve practice questions on a regular basis.
Vocabulary – Read English newspaper articles, magazines, and books to enhance and build your vocabulary.
Reading Comprehension – Practice passages to increase your speed and efficiency.
Descriptive English/Writing Skills – Practice your essay writing & precis' writing to improve your writing skills and enhance your way of expression.
General Awareness
Read newspapers daily which will prove to be a two-in-one solution. It will not only increase your knowledge of current affairs but also improve your vocabulary.
Explore all the events that happened in the last six months in the financial sector & all over the country in general.
Prepare for Static GK properly.
Refer to ixamBee's Beepedia that is totally free of cost and filled with knowledge and all latest updates.
SEBI Grade A Paper 2 – General Tips
Have conceptual clarity which will take you a long way.
Cover the topics comprehensively.
Avoid unnecessary details.
Don't waste your time on peripheral topics.
Note down the key points.
Revise
Paper 2 – Subject Wise Strategy
Apart from the general tips that can be followed irrespective of your specialized subject, there are a few things that need to be kept in mind specifically while preparing for your specific field of study. Let us look into some key points that you should include in your study plan while preparing for the 'Professional Knowledge Test'.
Paper 2 – Companies Act
To score well and utilize your time in a productive manner, you need to focus majorly on the selected topics/chapters here.
Important Chapters
Number of Days to Devote
Chap 3 – Prospectus & Allotment of Securities
8 days
Chap 4- Share Capital & Debentures
Chap 8 – Declaration & Payment of Dividend
Chap 10 – Audit & Auditors
Chap 11 – Appointment & Qualifications of Directors
Chap 12 – Meetings of Board & its Powers
Chap 27 – NCLT & Appellate Tribunal
Paper 2 – Accounts
Important Topics
Number of Days to Devote
Accounting Standards
9 days
Financial Statements
Buyback (of Securities)
Rights Shares
Bonus Shares
Some other important topics that you need to focus on in Accounts subject are:
ESOPs
Inventory
Depreciation
Revenue
Investments
Paper 2 – Finance
Important Topics
Number of Days to Devote
Financial Markets
9 days
Financial Inclusion
Derivatives
Financial Sector Updates
Point to be noted: SEBI is a Capital Markets Regulator.
If you wish to score well in this section, you should be well aware of SEBI and all the current happenings around it.
You should also focus specifically on 'Capital Markets'.
Have conceptual knowledge related to 'Derivatives' which is an important part of 'Finance'.
Have a general understanding of all the recent happenings in the Banking sector and NBFCs.
Paper 2 – Costing
Important Topics
Number of Days to Devote
Methods of Costing
8 days
Cost Control
Lean Systems
Standard Costs and Variance
Budgeting
Break-even
Understanding the concepts is the key to score in this subject.
You just need to put in a maximum of 8 days and ensure that you use this time period productively to get into the concepts deeply so that you can answer any kind of question that pops up on the exam day.
Paper 2 – Management
Important Topics
Number of Days to Devote
Management
5 days
Leadership
Motivation
Communication
HRD
Few major points that you need to focus on here are:
You should be aware of the Management basics that include its meaning, functions & roles.
Read about the Styles of Leaderships & theories
Know all the Theories of motivation & morale
Revise all these important topics at regular intervals to have a strong grip on these topics.
Paper 2 – Economics
Important Topics
Number of Days to Devote
Demand Supply
7 days
Inflation
National Income
Fiscal Policy
Monetary Policy
Balance of Payments (BoPs)
NBFCs
You can divide the subject here into two parts:-
Part 'A' – theory based
Part 'B' – macroeconomic
The 'macroeconomic' part is quite 'in' the news these days that include topics such as Fiscal Policy, NBFCs, Monetary Policy, GDP, Growth, Recession, etc.
After all these tips and tricks, if you feel you are still lost and feeling directionless as to how and where to start, ixamBee's SEBI Grade A Online Course is your one-stop solution here. The new batch is starting on December 11, 2021. Enroll now and leave all your worries behind!!
Get Free Online Test Series, GK updates in the form of BeePedia as well as latest updates for Bank PO, Bank Clerk, SSC, RBI, NABARD, and Other Government Jobs.
Also Read:
SEBI Grade A Officer: Salary & Job Profile
How To Crack SEBI Grade A 2022 in First Attempt
SEBI Grade A 2020: Analysis of Final Result