RBI Grade B 2022
Hum jahan khade ho jaatey hain, line wahin se shuru hoti hai!!
The line suits well to the leader of all banks- the Reserve Bank of India (RBI) – India's Central Bank, which manages and regulates all the banks that come under its radar. RBI Grade B is one such golden opportunity to enter this extraordinary financial organization. Becoming an RBI Grade B Officer is a dream of many aspirants today. The RBI Grade B recruitment for 2022 is out and how! A huge number of aspirants were in the line to apply for this much-awaited opportunity. Those who have still not applied, you have not missed the bus yet.
You can still buy your RBI Grade B exam ticket until April 18, 2022. The RBI Grade B exam for Phase 1 (General Stream) will be held on May 28, 2022, and for DEPR/DSIM stream, the exam will be held on July 02, 2022.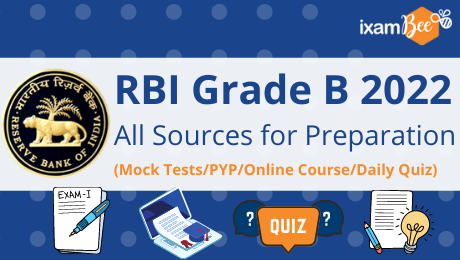 RBI Grade B Preparation
Looking at the value and popularity of the RBI Grade B Officer post, you can not underestimate the competition that follows it. Every banking aspirant starts his/her preparation with an RBI Grade B dream. Considering the competition at hand, you probably will need a full-proof plan laced with all necessary resources. If you are a first-timer and even a tiny bit nervous about how to commence the RBI Grade B preparation, we are here to help you with a complete package that is all you will need to achieve your goal of becoming an RBI Grade B Officer.
RBI Grade B Resources: What all do we offer?
Finding the right sources of information in today's online world is the most important requirement. While preparing for one of the most important competitive exams, it is essential to grab some of the best study materials and resources available around you. Have a look at what all do we offer:
RBI Grade B Online Course
If you are in search of proper guidance and are on the lookout for a holistic package for yourself, you need not think twice before opting for the RBI Grade B Online Course which has been designed by some of the best experts and fulfills all the students' requirements. The course has a lot in store for you such as practice tests, video lessons, live classes, study notes, mock tests, etc.
We suggest you do not waste even a single thought on this and click on the course right away!
RBI Grade B Free Mock Tests
Another important resource while preparing for any competitive exam is mock tests. What's best if you can get those for FREE??!! Nothing sounds better than an RBI Grade B 'free' mock test! Practicing these will let you improve on your weak points & strengthen the stronger ones. The mock tests for RBI Grade B available at ixamBee cover the latest and complete RBI Grade B syllabus and follow the newest RBI Grade B exam pattern. Check these out and get a step closer to your goal.
RBI Grade B Previous Year Papers
It's never good to look back on life but when it comes to preparing for the RBI Grade B exam, looking back at the RBI Grade B previous year paper might prove a life-saver for you. ixamBee offers RBI Grade B previous year papers which consist of all the questions that have appeared in all the recently held RBI Grade B exams. You can check out all the RBI Grade B previous year question papers for the years 2015, 2016, 2017, 2018, 2019, and 2021.
Apart from all the resources mentioned above, available at ixamBee, we also provide an RBI Grade B daily quiz. You can attempt these daily quizzes and check your level of preparedness. Not only the preparation is what matters the most, but also keeping a check on the preparation. Avail of this feature by logging in to ixamBee and checking your knowledge.
Click to know more about the RBI Grade B exam.
With the help of all these resources, we are sure you will be able to crack the RBI Grade B exam with ease. If any confusion still persists you can always talk to us at hello@ixambee.com or contact us at +91-9205524028.
Also Read: