The NABARD Grade 'A' examinations 2021 in Rural Development Banking Service, Rajbhasha Service, Protocol & Security Service streams will be held on Saturday, September 18, 2021.
As we have now entered the last week, or rather, the week of the examination, there are a few things that you should keep in mind. This article will give you some tips on how you should use these last days to prepare for the main exam day.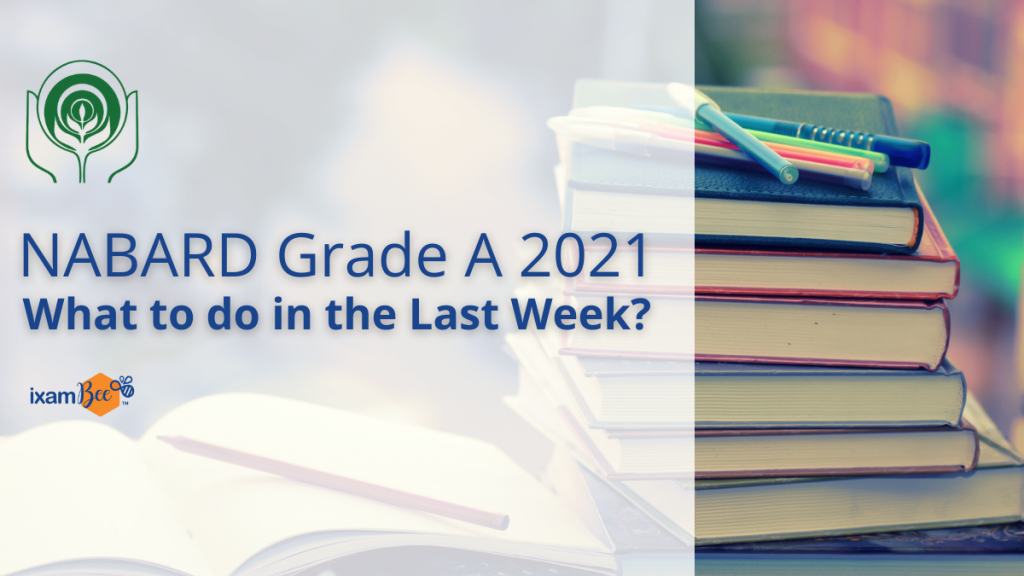 NABARD Grade A 2021: What to do in the Last Week?
Put down your books
If you ask anybody, they will unanimously advise you against studying a week before any competitive examination. And rightly so! We're sure you have used your time fruitfully in the past months and now it is time to put away your books. You must feel confident in your preparation. Your confidence will allow you to perform well during the exam.
Revision Videos
Instead of studying, it would be prudent to revise what you have studied. Since there are 8 sections in your Prelims paper, revise 2 subjects each over the course of the next three to four days. Take help from ixamBee's revision videos where faculties discuss important questions and revision tips.
BeePedia for General Awareness
General Awareness is an important, yet light subject. It is a very scoring section which is why we always advise our students to stay at the top of it. If you have not already, now would be a good time to study ixamBee's BeePedia capsules. These weekly/monthly capsules will provide you with all the information you need.
Take a Mock Test Every day!
In this last week, you should routinely and religiously take a NABARD Grade A mock test every day. It will aid you in assessing your preparation. Also, these mock tests are completely free, so you have no reason to exclude them from your final preparation. The many benefits of taking practice tests will only become manifest once you actually take a mock test!
Review your performance
Once you have actually taken your mock tests, sit back and analyse your performance. In which subjects did you score the highest? In which section was your performance lacking? Were you able to attempt all the questions within the provided time?
Previous Years Papers
Similarly, you can take help from some NABARD Grade A previous years' papers as well. This is an important part of your self-assessment. It is always better to identify and eliminate your mistakes whilst reviewing previous years' papers than during the main exam.
Get Your 8 hours of Sleep
This entire week, you should ensure that you get your much-needed 8 hours of sleep. Getting a good night's sleep is not optional or desirable, it is vital.
Do you have your call letter?
We hope you have downloaded and printed your call letter and kept it ready. In case you have not, drop what you are doing and do it right now. The NABARD Grade A admit card for Preliminary Examination can be downloaded till September 18, 2021. Log into your account using your Registration No. / Roll No. and Password / DOB(DD-MM-YY).
Go through the information handout
You should certainly go through the NABARD Grade A information handout released by NABARD. It will give you a proper overview of everything you should know for your exam day.
Get Your Things Ready
Since your exam is on Saturday, all your things should be ready by Friday.
You must remember to bring the following to the exam centre.
Call letter with affixed passport-size photograph
Valid photo-identity proof (original and photocopy). The candidate's name on the admit card and the ID proof should be exactly the same.
A ball-point pen
An ink stamp pad
Hand sanitizer
Transparent bottle of water
You must wear a mask and follow all COVID-19 related safety guidelines.
No books, papers, calculators, phones or any electronic devices will be permitted inside the examination hall. Blank paper for rough work will be provided at the centre.
We hope you have used your time well and will continue to do so in these last few days as well.
We wish you all the success in the world!
Also See
How to Prepare Quantitative Aptitude for NABARD Grade A/B 2021
NABARD Grade A 2021: How to Prepare for Descriptive ESI?