The Banking sector forms a major part of the Indian economy as well as many world economies. More importantly, the Banking sector is responsible for driving our modern economy. As the primary supplier of credit, banks provide money to the general public for buying cars, homes, for businesses and companies to expand their operations, etc.
Furthermore, banks also provide a safe place to the depositors to keep their money and to earn some interest on the same. Therefore, the Banking industry plays a crucial role in India and is also one of the largest employers in the country.
Keeping this in mind, the Finance Minister in 2019 announced the merger of ten public sector banks, thereby bringing this number down to four. Now, there are a total of 12 public sector banks (earlier 27) in India. For this, the government infused a capital of Rs. 55,000 crores into public sector banks. The public sector banks merger came into effect on April 01, 2020. This was done to address the issue of economic slowdown, non-performing assets and to boost the economy by increasing the liquidity. This has been termed as the biggest consolidation exercise in the banking industry.
In today's blog, we will go over all the details of the Indian Bank merger list and the merits and demerits of mergers. Moreover, if it is your dream to be a part of the Banking sector, we would encourage you to read this blog till the end.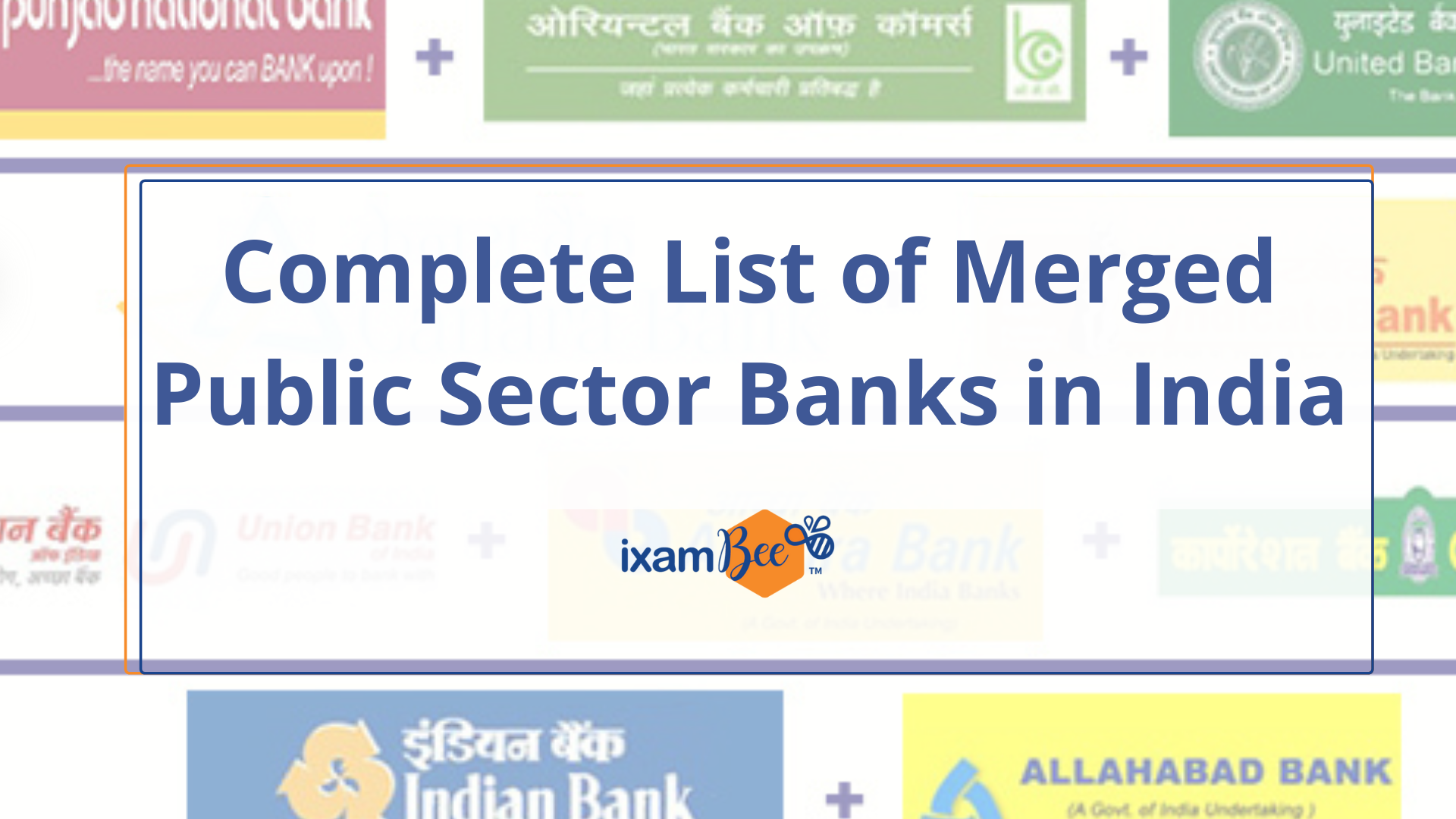 What is a Merger?
Before going any further with the rest of the discussion, let's first understand what is meant by 'Merger'. We will also understand the difference between a 'Merger' and 'Acquisition' for better clarity.
Merger
Broadly speaking, a 'Merger' is a voluntary agreement between two existing companies to form a new company.
The companies/firms that agree to merge are roughly equal in terms of size, customers, scale of operations and market share.
This is also known as 'merger of equals'.
Acquisition
On the other hand, 'Acquisition' is the opposite of 'Merger'.
Generally speaking, 'Acquisition' is not voluntary.
It involves one company actively purchasing another company to form a new company.
Legal Provisions with respect to Mergers & Acquisitions
The provisions related to Mergers & Acquisitions are contained in the following Acts-
Section 390 to 395 of the earlier Companies Act, 1956 dealt with the provisions related to Mergers and Acquisitions in India.
Under the current Companies Act, 2013, Chapter VX deals with 'Compromises, Arrangements and Amalgamations'.
Moreover, the provisions relating to Mergers and Acquisitions are also found in FEMA, SEBI Takeover Code, 2011 and the Income Tax Act, 1961.
Purpose of Mergers & Acquisitions
Mergers and Acquisitions are mainly done to expand a company's market share, grow revenues, expand to new territories, reduce cost of operations and expand into new markets and segments. All of this combined, it benefits the new company's shareholders.
Why do Banks Merge?
There are various reasons as to why bank mergers are encouraged. Some of them are-
To Increase Profits
The merger would lead to an increase in the total business size by combining the assets of the Anchor bank and the Amalgamating bank. This in turn, will increase the shareholders value.
Expansion/Diversification
Mergers offer the banks an opportunity to diversify and expand their business and services. Furthermore, the expanded market access leads to quick growth.
Improves Efficiency
One of the objectives of a merger is to improve the operating efficiency, value and performance of the companies upon amalgamation. Another reason is to create next-generation banks with a secure national presence and global outreach with better capacity to provide credit to the important sectors of the country.
Risk Reduction
Mergers help the banks in reducing the risk of bankruptcy.
Reduction of Competition
Post the merger, the competitor bank gets absorbed and becomes one entity. Therefore, it helps to reduce market competition.
List of Merged Public Sector Banks in India
In a merger, two entities are involved. In this case, it will be an Anchor bank and an Amalgamating bank(s). The Anchor bank will merge with the Amalgamating bank.
Given below is the complete bank merger list-
| | |
| --- | --- |
| Anchor Bank | Amalgamating Bank |
| Punjab National Bank (PNB) | Oriental Bank of Commerce (OBC) and United Bank of India (UBI) |
| Canara Bank | Syndicate Bank |
| Union bank of India | Andhra Bank and Corporation Bank |
| Indian Bank | Allahabad Bank |
Let's understand these bank mergers in detail now-
Punjab National Bank (PNB)
Punjab National Bank (PNB) has taken over Oriental Bank of Commerce and United Bank of India.
This has increased PNB's current total business size to Rs. 17.95 lakh crores.
Moreover, it now has 11,437 branches all over the country.
After this merger, PNB has become the second-largest public sector bank in India, after State Bank of India (SBI).
Canara Bank
Canara Bank has merged with the Syndicate Bank, since these two banks have a similar work culture. This merger has reduced the cost of operations due to overlapping of networks.
The combined business size is now Rs. 15.20 lakh crore, making it the fourth-largest public sector bank in India.
Canara Bank will now have 10,342 branches across the country.
With a low gross Non-Performing Assets (NPA) ratio of 8.77%, Canara Bank will receive around Rs. 6,500 crore capital from the Indian Government.
Union Bank of India
The Union Bank of India took over the Andhra Bank and Corporation Bank.
The combined business size now stands at Rs. 14.59 lakh crore along with a total of 9,609 branches.
Since Union Bank of India has a high net NPA ratio of 6.85%, it received Rs. 11,700 crore from the government for the merger.
This merger has made Union Bank of India the fifth-largest bank in India.
Indian Bank
Indian Bank merged with the Allahabad Bank, making it the seventh-largest bank in India.
The total business size of Indian Bank is Rs. 8.07 lakh crore.
The Indian Bank now has 6,104 branches across India.
As the net NPA ratio of Indian Bank is 3.75%, it received Rs. 2,500 crore capital from the government for the merger.
Total Number of Public Sector Banks in India
Post this merger, the total number of public sector banks in India are 12. Of these, six banks are independent and six banks have been merged.
| | |
| --- | --- |
| Independent Public Sector Banks | Merged Public Sector Banks |
| Indian Overseas Bank | State Bank of India |
| UCO Bank | Bank of Baroda |
| Bank of Maharashtra | Punjab National Bank |
| Punjab & Sind Bank | Canara Bank |
| Bank of India | Union Bank of India |
| Central Bank of India | Indian Bank |
Note-
In 2017, State Bank of India merged with five of its associate banks- State Bank of Bikaner and Jaipur, State Bank of Mysore, State Bank of Travancore, State Bank of Hyderabad, and State Bank of Patiala and Bharatiya Mahila Bank. Post the merger, SBI became the largest public sector bank in the country. With the success of this merger, SBI became a part of the top 50 banks in the world.
Bank of Baroda merged with Dena Bank and Vijaya Bank on April, 01, 2019. Currently, it is the third-largest public sector bank in India.
Impact of Public Sector Bank Merger
The public sector banks merger has its own advantages and disadvantages. Let's look at some of them-
Advantages
For Banks
Post the merger, the lending capacity of the public sector banks has increased and the balance sheets have also become strong.
The merger will increase the reach of banking operations to every corner of the country.
This will lead to technology upgradation, which will improve the overall efficiency of the banks.
It has also led to an increase in the value of assets of the merged banks.
For the Economy
The operational costs and administrative expenses have reduced, with the removal of unnecessary posts and designations.
Apart from the traditional loans and deposits, customers have a wide variety of products and services to choose from, which will improve the economy.
This will also lead to better management of banking capital.
For the Government
The recapitalisation needed from the government will reduce.
With only 12 public sector banks, it has become easier for the government to regulate and manage these banks.
Disadvantages
Mergers often lead to a loss of jobs and also pose difficulties for the existing employees to adjust to a new working environment.
Moreover, it will also lead to the shutting down of various ATMs and Branch offices, which will make it difficult for the customers of the merged banks.
Another major disadvantage faced by larger banks is that they have a greater performance pressure with respect to the NPAs.
Conclusion
From the above discussion, it is evident that mergers of banks is an essential step for the economy of any country to maintain its liquidity. Mergers come in handy when the country is dealing with the issue of NPAs. Since mergers increase the total business size of the banks, it enables the banks to invest in infrastructure and other important projects of the country, which in turn boosts the economy.
Ultimate BeeBanker for Banking Jobs
To help you realise your dream of landing a job in the public sector banks, ixamBee is providing the Ultimate BeeBanker Online Course. It is a one of a kind umbrella course which will help you prepare for various Bank PO/Clerk exams like ECGC PO, IBPS PO, IBPS Clerk, SBI PO, SBI Clerk among others in one place.
This course has been especially curated for you by our experts who possess first-hand experience in this field. Therefore, you can count on our team of experts to give you genuine guidance.
The duration of this course is 2 years. What's best? If you are unable to qualify any Bank exam within 2 years, your course fee will be refunded.
Therefore, to make your exam preparation smooth sailing, we encourage you to enroll in the Ultimate BeeBanker Online course.
We wish you the best!
At ixamBee, you can find free Online Test Series, GK updates in the form of BeePedia, as well as the latest updates for SBI PO, Bank Clerk, SSC, RBI, NABARD, and Other Government Jobs.
Also Read:
How to Prepare for Bank Exams: 25 Week Study Plan for Bank PO
Preparing for Bank PO Exams? Here's What You Ought to Know!
Top 10 SSC Exams and Tips to Crack Them
Top 15 Government Jobs in India: Top Exams for Government Jobs in India