Read all you need to know about the SBI, functions of SBI, the history of SBI and everything you need to know about the State Bank of India at ixamBee!
About SBI
The State Bank of India or the SBI is a public-sector bank and financial service statutory body. It is the largest commercial bank in India in terms of assets, profits, deposits, number of branches and employees. The SBI came into existence on July 1, 1955. It has its headquarters in Mumbai, Maharashtra.
The bank became the banker to all classes of people through its wide expansion of business and has maximum outreach. This is why RBI put SBI on the list of Domestic Systemically Important Banks or D-SIBs (D-SIBs are banks that are too big to fail). Presently SBI is headed by Mr. Dinesh Kumar Khara.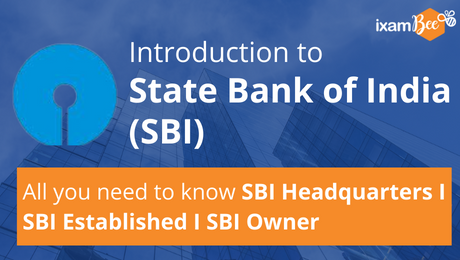 State Bank of India: Quick Overview
Let us quickly go over the details of the SBI before we learn more about the SBI and its functions.
SBI Headquarters: Mumbai
SBI Established: 1955
State Bank of India Chairman: Sri Dinesh Kumar Khara
SBI Owner: Government of India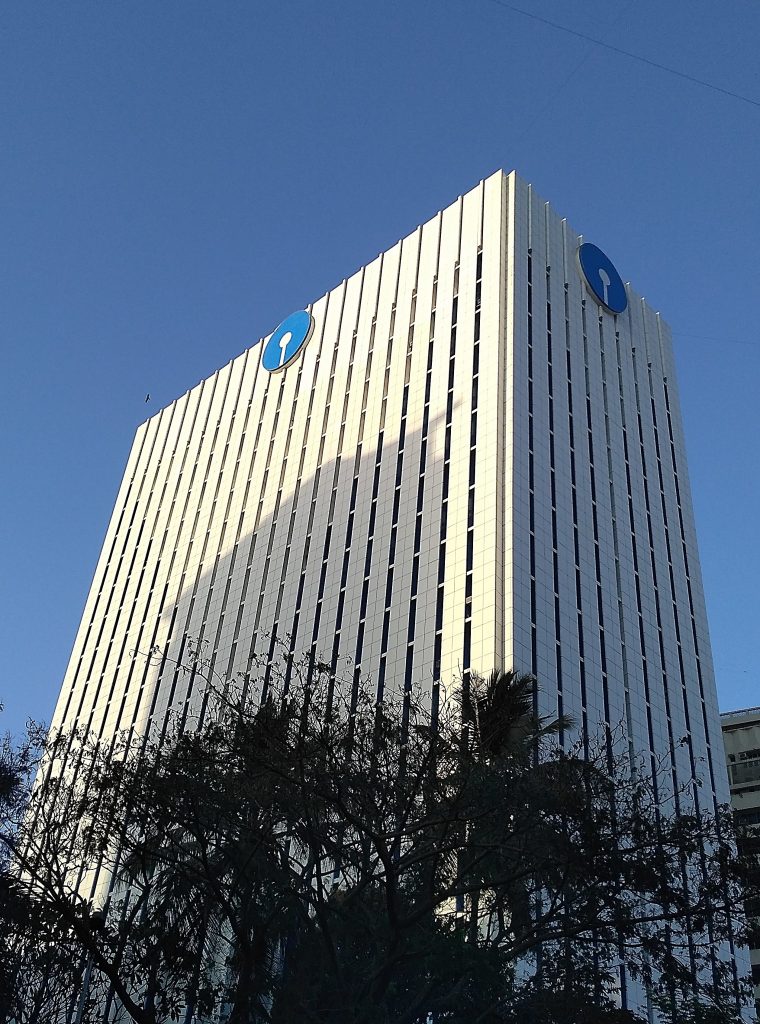 Image source: https://upload.wikimedia.org/wikipedia/commons/e/e5/SBI_HQ_in_Mumbai.jpg
SBI Bank History
The roots of the State Bank of India lie in the 19th century when the Bank of Calcutta (later renamed as Bank of Bengal) was established on June 2, 1806. The Bank of Bengal was one of three Presidency banks, the other two being Bank of Bombay and Bank of Madras. These three Presidency banks were incorporated as joint-stock companies. They have the exclusive right to issue paper currency until 1861 when the right was taken over by the Government of India. The three Presidency banks amalgamated on January 27,1921 and were named Imperial Bank of India. The Imperial Bank of India remained a joint-stock company without Government participation. All in all, the SBI was formed after the merger of approximately twenty banks.
According to the State Bank of India Act of 1955, the Reserve Bank of India, acquired a controlling interest in the Imperial Bank of India and the Imperial Bank of India became the State Bank of India on July 1, 1955. But the Indian Government acquired the Reserve Bank of India's stake in SBI in 2008 to remove any conflict of interest because the RBI is the country's banking regulatory authority. In 1959, the government passed the State Bank of India (Subsidiary Banks) Act thus making the eight banks that had belonged to princely states subsidiaries of SBI. But now all the subsidiaries have been merged with SBI.
Also Read: The State Bank of India Act, 1955
Functions of SBI
Being one of the largest commercial and systemically important banks, SBI shares a greater responsibility and role as compared to other banks. The functions performed by SBI are divided into two categories- ordinary banking functions and central banking functions. These banking functions are further subdivided into many categories.
Central Banking Functions
SBI acts as an agent of RBI, where there are no branches of RBI to perform the following functions-
Currency Maintenance– Essentially, the RBI is responsible for the maintenance of currency. But the offices of RBI are only available in big cities. In places where RBI has no branches, it maintains its currency through the SBI. The currency is withdrawn from these branches of SBI whenever required by the RBI. In other words, it acts as a Currency Chest on behalf of the RBI.
Government's Bank– The SBI caters to the needs of the central and state governments. Firstly, it collects money and makes payments on behalf of the government. It also collects the charges on behalf of the government like tax collection and other payments besides granting advances and loans to the government.
Bank bankers by receiving deposits from and give loans to other commercial banks. Many commercial banks have their accounts with SBI and these banks resort to help to SBI whenever they face any financial shortage.
The SBI also acts as a clearinghouse for all commercial banks in places where RBI does not have its presence.
Also see: SBI Clerk Prelims Mock Test at ixamBee
General Banking Functions
Since its inception, the SBI is working to cover all areas, including the rural areas, which have remained outside the reach of the banking sector for a substantial period so that their living standard can be uplifted. Besides performing the above-mentioned work, THE SBI just like any other public-sector bank performs the normal banking operations that are mentioned below:
Accepts deposits from the public under current, saving, recurring and fixed deposits.
Acts as an administrator, executor and trustee.
Issue and circulate letters of credit.
Offer remittance facilities like demand draft, telegraphic transfer, etc.
Accept, draw, discount, sell and buy bills of exchange and other negotiable instruments.
Merchant-Banking facilities.
Operates Non-Resident External and foreign currency accounts.
Offers community services banking by providing grants to many socially relevant research projects undertaken by various universities and institutes.
Promotes exports through export credit.
Providing financial help to the small-scale industries.
SBI Vision and Mission
The SBI also has a clear vision and mission through which it always tries to maintain a quality service and standard. Its vision is to:
Provide a satisfying work environment with ample opportunities for learning, self-actualization and self-development
To be a responsible, caring and committed organization for Indian citizens
To attain high standards of professionalism, efficiency and core institutional values
In essence, the SBI's mission is to develop itself into a top-rated, nimble-footed financial and banking institute committed to providing excellent services to its customers, and enhancing stakeholders' value through care and competence.
SBI Logo and Its Meaning

At present the logo of SBI is a blue circle with a small cut at the bottom and is said to be inspired by Kankaria Lake (Ahmedabad) which resembles this on Google Maps. The blue circle symbolizes unity and completeness while the white one represents the common man as a vital part of the bank, despite the huge size of the bank. The logo also suggests a keyhole which is the symbol of safety, security and strength. Some also interpret the white circle as the bank's branch and the vertical line stands for the streets and lanes of any city which leads to the bank's branch reflecting that wherever one goes, the SBI is there to serve.
Also see: Free Mock Test for SBI PO Prelims at ixamBee!
SBI Non-Banking Subsidiaries
SBI not only provides banking services but also through its joint venture or non-banking subsidiaries it is trying to make its presence felt abroad and expand its dimensions in other fields. Some non-banking subsidiaries of SBI are:
SBI LIFE INSURANCE COMPANY LIMITED (SBI-LIFE)
SBI GENERAL INSURANCE COMPANY LIMITED (SBI GENERAL)
SBI CARDS AND PAYMENT SERVICES LIMITED (SBICPSL)
SBI FUNDS MANAGEMENT LIMITED(SBIFML)
SBI CAPITAL MARKETS LIMITED (SBICAPS)
SBICAP Securities Ltd (SSL)
SBICAP Ventures Limited (SVL)
SBICAP TRUSTEE COMPANY LIMITED (STCL)
SBI SG GLOBAL SECURITIES SERVICES PRIVATE LIMITED (SBI-SG)
SBI DFHI LIMITED (SBI DFHI)
SBI Payment Services Pvt Ltd. (SBI Payments)
SBI GLOBAL FACTORS LIMITED (SBIGFL)
SBIPENSION FUNDS PRIVATE LIMITED
The SBI also has some joint ventures with other countries which are mentioned below:
Nepal SBI Bank Ltd (SBI, EPFO and Agricultural Development Bank of Nepal)
C-Edge Technologies Ltd ( TCS and SBI)
Bank- SBI Botswana Ltd or BSBIBL (India and Botswana)
Commercial Indo Bank LLC or CCIBL (India and Russia)
SBI Exams
If you want to work with the SBI as a Bank PO/Bank Clerk, you will have to clear the recruitment exam conducted annually. For this, we strongly advise you to begin your preparation right away. Begin by taking a look at the Ultimate BeeBanker Online Course to understand how you can prepare for theSBI PO exam and SBI Clerk exam simultaneously. Moreover, this course will also help you prepare for other Bank PO/Bank Clerk exams as well all at the same time.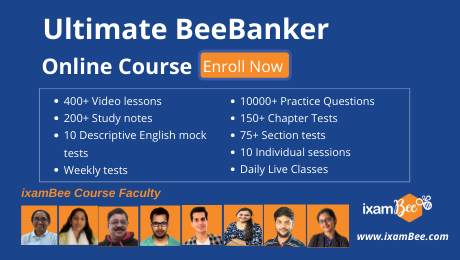 All the very best!!
At ixamBee, you can find free Online Test Series, GK updates in the form of BeePedia, as well as latest updates for SBI PO, Bank Clerk, SSC, RBI, NABARD, and Other Government Jobs.
Also Read
SBI Clerk Job Profile 2022: Check Roles & Responsibilities
In-Hand Salary, PayScale and Perk of SBI Clerk
SBI Clerk 2022 Preparation: SBI Clerk Mock Tests & Online Course
SBI PO Prelims Exam Analysis 2021: All Shifts
лайм-займзайм или заемзайм онлайн без отказа