The IBPS CLERK notification for the year 2018 is out and does not need any special mention here, as most of us know and wait for it the whole year to come. It is one of the most awaited exams for a large number of aspirants.
While choosing the right career option is an important task, selecting the right path to achieve that career is as important as that. No points for the guesses, that the one thing that has to get utmost importance in your to-do list will be THE BOOKS for IBPS Clerk! What makes you stand out in the crowd is 'smart work', not just hard work! There is no dearth of advice and information all around, but going for the right one is what makes the difference. Here, we bring you a list of some books that will help you get an edge over other students who must still be confused over what to choose!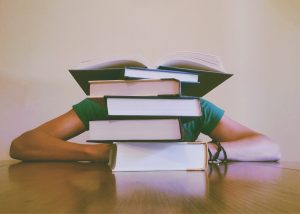 IBPS CLERK BOOKS FOR ENGLISH SUBJECT
ENGLISH: THE GHOST
First and foremost you need a dictionary at your table, for sure, to always refer to any word that you find difficult as soon as you spot one. You may get many options for one, but the one tried and tested is – CONCISE OXFORD ENGLISH Dictionary – by OXFORD Dictionaries.
The other important books that you may need are listed below –
| | | |
| --- | --- | --- |
| IBPS CLERK BOOKS NAME | AUTHOR NAME | PUBLISHER NAME |
| OBJECTIVE ENGLISH for Competitive Exams (5th edition) | Hari Mohan Prasad & Uma Rani Sinha | McGraw Hill Education |
| WORD POWER MADE EASY | Norman Lewis | Penguin |
| OBJECTIVE ENGLISH | Edgar Thorpe | Pearson |
| ESSENTIAL GRAMMAR IN USE | Raymond Murphy | Cambridge University Press – New Delhi |
IBPS CLERK BOOKS FOR QUANTITATIVE APTITUDE
QUANTITATIVE APTITUDE is a tricky subject, but a scoring one which you can master by practice and more practice for which you need good questions, which means good books. Some of the good and popular books have been listed below:
IBPS CLERK BOOKS NAME
AUTHOR NAME
PUBLISHER NAME
QUANTITATIVE APTITUDE for Competitive Exams
R.S.Aggarwal
S.Chand
MAGICAL BOOK ON QUICKER MATHS
M.Tyra
BSC
HOW TO PREPARE FOR QUANTITATIVE APTITUDE for CAT(IF you want yourself to be on a higher level)

 

Arun Sharma
McGraw Hill Education
IBPS CLERK BOOKS FOR REASONING SUBJECT
Reasoning in itself needs a thorough practice which leads to an improved ability to reason and applying logic well. Good IBPS CLERK Books may help you in achieving your goal.
IBPS CLERK BOOKS NAME
AUTHOR NAME
PUBLISHER NAME
TEST OF REASONING
Edgar Thorpe

 

Pearson
A MODERN APPROACH TO VERBAL AND NON-VERBAL REASONING
R.S.Aggarwal
S.Chand
A NEW APPROACH TO REASONING (Verbal, Non-Verbal & Analytical)
BS Sijwalii & Indu Sijwalii
Arihant
NOTE: You should also go for some practice sets for each subject separately. You may choose any popular set from the market. (If you are too lazy to do that, you can log on to www.ixambee.com )
You may get various tests and chapter tests, where you can test your knowledge, which you will possibly receive from the above- mentioned books)
We do not believe in throwing away a long list of books, which may prove a further challenge for the students to choose from. A crisp and short list will save you the time.
Match up your preparation with enough practice and come out with flying colours. ixamBee provides free mock tests at www.ixambee.com/free-mock-tests to ace your preparation.
To gather more details about IBPS CLERK 2018, you can visit the following link:
https://www.ixambee.com/exams/ibps-clerk
GET GOING! ALL THE BEST! займ в тулеонлайн займ на карту без электронной почтызайм на карту конга