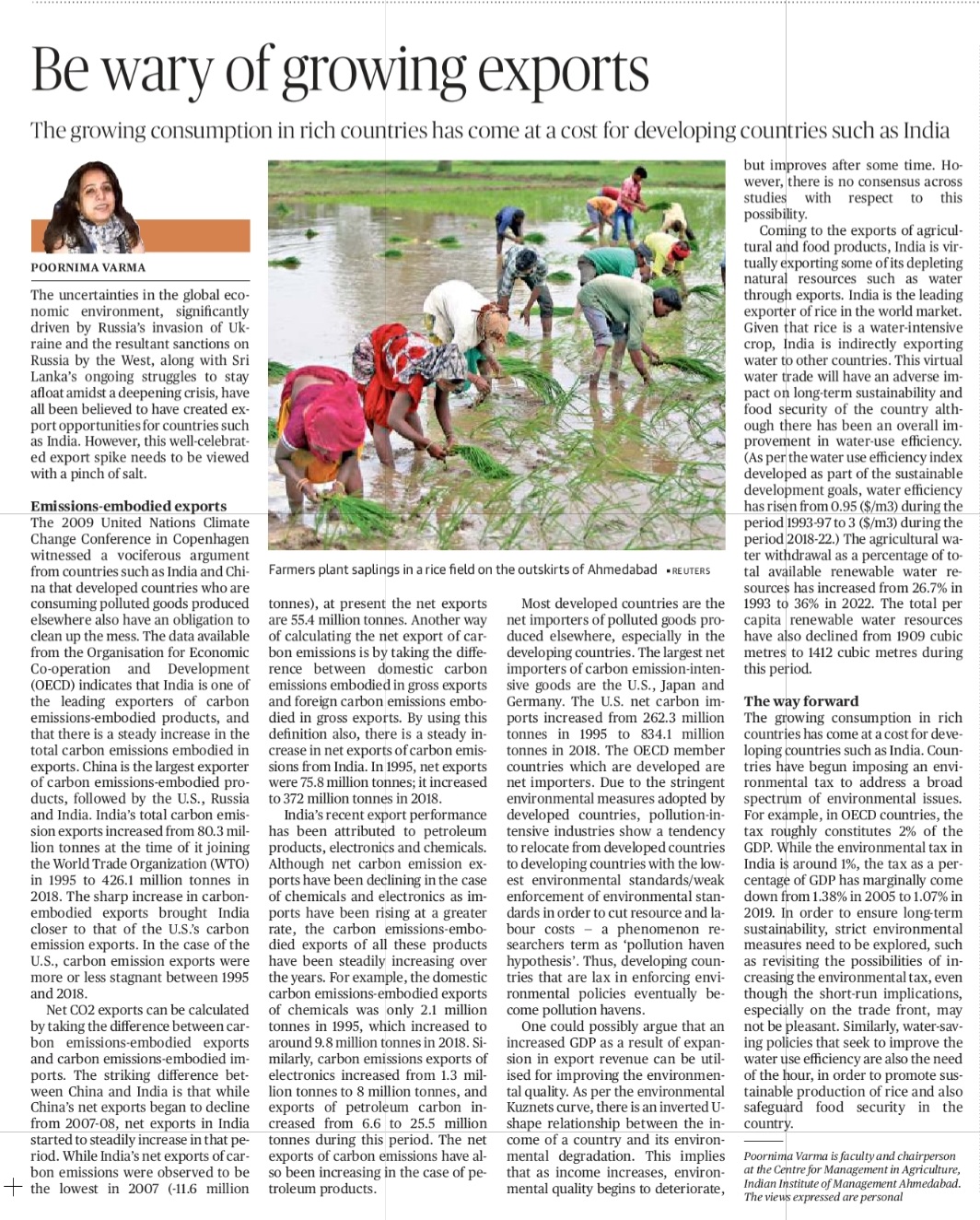 About The Editorial
The current export spike created by the Ukraine war and Sri Lanka's ongoing struggle needs to be viewed with a pinch of salt. The 2009 United Nations Climate Change Conference in Copenhagen witnessed a vociferous argument from countries such as India and China that developed countries who are consuming polluted goods produced elsewhere also have an obligation to clean up the mess. The data available from OECD shows that India is one of the leading exporters of carbon emissions-embodied products and there is a steady increase in the total carbon emissions embodied in exports. China is the largest exporter of carbon emissions-embodied products, followed by the U.S, Russia and India. India's total carbon emission exports increased from 80.3 million tonnes at the time of it joining the World Trade Organization (WTO) in 1995 to 426.1 million tonnes in 2018. The sharp increase in carbon-embodied exports brought India closer to that of the U.S.'s carbon emission exports. In the case of the U.S., carbon emission exports were more or less stagnant between 1995 and 2018.
In order to ensure long-term sustainability, strict environmental measures need to be explored, such as revisiting the possibilities of increasing the environmental tax, even though the short-run implications, especially on the trade front, may not be pleasant. Similarly, water-saving policies that seek to improve the water use efficiency are also the need of the hour, in order to promote sustainable production of rice and also safeguard food security in the country.
Exams
SBI PO Prelims
IBPS PO Prelims
Take Test
Vocabulary Check
Pinch of salt
Meaning:to not completely believe something that you are told, because you think it is unlikely to be true
Usage: You have to take some of Mayer's remarks with a pinch of salt.
Don't forget to Like us!!
Aiding to your exam preparation..50% FASTER. If you agree with us, please like us
Like